Many LGBT individuals and couples are turning to surrogacy to have their families. Surrogacy in New York is complicated and evolving, but there is hope on the horizon.
Surrogacy is defined and the act of a woman, altruistic in nature, of gestating and giving birth to a child with the intention of giving that child to the intended parent or parents. There are two types of surrogacy: traditional and gestational. Traditional surrogacy is when the surrogate mother is also the egg donor and the child is biologically related to her. With gestational surrogacy, a fertilized egg is implanted into the womb of the surrogate and she is not biologically related to the child. Most surrogates today are gestational surrogates.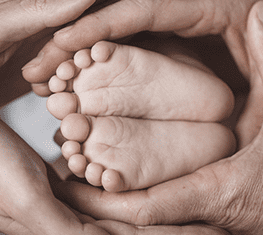 Currently, in New York State, The Domestic Relations Law, Article 8, Section 123 essentially criminalizes compensated surrogacy. The law states that no person may request, accept, or facilitate the receipt of compensation for a surrogacy arrangement.  The law does, however, allow for "altruistic" surrogacy, or non-compensated surrogacy, and authorizes limited reimbursement payments for medical and legal costs related to the surrogacy.  But the law does not stop there.  Lawyers who facilitate compensated surrogacy agreements can lose their licenses and be convicted of a felony.  Monetary sanctions from $500.00 to $10,000.00 are also possible.  This does not mean that gay individuals and couples in New York cannot enter into a compensated surrogacy contract.  It means that the surrogate cannot live, or more importantly give birth, in New York State, forcing them to incur extra costs of traveling to other states in order to support their surrogate mother.
The good news is that a group of advocates and attorneys have created a solution to this problem. It is called the Child-Parent Security Act (CPSA), a law that would not only legalize and regulate compensated surrogacy in New York, but would also allow for the issuance of parentage orders to secure the parental rights of the non-genetically related parent.  Currently, non-genetically related parents must have a second or step-parent adoption to protect their families.  As of this post, the CPSA is stuck in committee in the New York legislature, held back due to certain legislators' misunderstanding of surrogacy.  Many of these legislators are staunch supporters of the rights of the LGBT community; however, surrogacy for them is a "hot button" issue, as it currently is in Europe.
If you are thinking about surrogacy to have your family, there are a few legal issues you should know about prior to signing any contracts. The most important is that compensated surrogacy is governed by the laws of the state where your surrogate lives, or where she gives birth.  It is critical to be aware of these ever-changing laws and make sure that the current law is incorporated into your gestational carrier (GC) contract.  These contracts will contain such other provisions as a mandate for medical and psychological testing, details of conception and abstinence for the GC and her partner or spouse, termination of GC's parental rights, provisions for death or divorce of intended parents (IPs), payment of expenses, compensation, review of GC's health insurance, breach and remedy procedures, selective reduction provisions to name just a few.  These contracts are purposefully dense as their purpose is to cover any and all possible situations that may arise in the relationship IPs will have with their surrogate.  It is critical that you have an attorney who is versed in the Assisted Reproductive Technology (ART) law to assist you in the drafting and review of your surrogacy contract.
Finally, for those considering surrogacy in New York, make sure to read through the Men Having Babies Framework of Ethical Guidelines for Intended Parents, an invaluable document created to assist IPs in navigating the process with dignity and awareness of your surrogate mother's needs through the process.  If you are looking for an attorney in New York who specializes in helping same-sex couples have families, call Anthony M. Brown, head of the Family and Estates division of Chianese & Reilly Law, at (516) 614-6516 or email questions to brown@awclawyer.com.